OPENING CEREMONY SPEAKERS
DR. JÜRGEN DOLD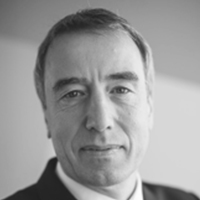 Dr. Juergen Dold, President Hexagon Geosystems and member of the Hexagon AB Group Management. Juergen Dold has been part of Hexagon since 1995. Before his time at Hexagon, Dold served as academic counsel and assistant professor at Technical University of Braunschweig, Germany, and various management positions within Leica Geosystems. Juergen Dold holds a diploma degree in Geodesy from the University Bonn, Germany and PHD from the University of Federal Armed Forces Germany in Munich.
PROF. NADIA MAGNENAT THALMANN

Professor Nadia Magnenat Thalmann has pioneered research into virtual humans over the last 30 years. She obtained several Bachelor's and Master's degrees in various disciplines (Psychology, Biology and Biochemistry) and a PhD in Quantum Physics from the University of Geneva in 1977. From 1977 to 1989, she was a Professor at the University of Montreal in Canada and then Professor at the University of Geneva.
In 1989, she founded the interdisciplinary research group MIRALab at the University of Geneva (www.miralab.ch). Her global domain of research is Virtual Humans and Social Robots. She has coordinated several projects, the most recent one is the Marie Curie Project MULTISCALE HUMAN (http://multiscalehuman.miralab.ch/). More recently, she has worked on the social autonomous robot Nadine alike of herself that is able to speak, recognize people and gestures, express mood and emotions, and remember actions. She is a Member and President of high level international evaluation committees, among the recent ones the Jury of the Vienna Science and Technology Fund, the Advisory Board for Computer Science at Tsinghua University in Beijing, China, the Canada Excellence Research Chairs Review Panel in Ottawa and the European Research Council (ERC). During her Career, she has received more than 30 Awards such as "Woman in the Year", the early recognition in Montreal in 1987, Doctor Honoris Causa in Natural Sciences from the Leibniz University of Hanover in Germany in 2009, the Distinguished Career Award from the European Association for Computer Graphics in Norrkoping, Sweden and an Honorary Doctorate of the University in Ottawa in 2010, a Career Achievement Award from the Canadian Human Computer Communications Society in Toronto in 2012, and the Humboldt Research Award in Germany.
Besides directing her research group MIRALab in Switzerland, she is presently Visiting Professor and Director of the Institute for Media Innovation (IMI) at Nanyang Technological University, Singapore